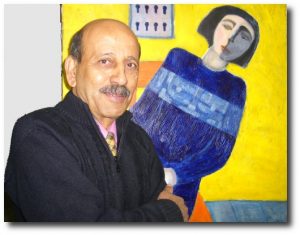 Awards and honors:

1973: The city of Haifa awarded Abdi the Hermann Struck Best Artist of the Year Prize in 1973.
1999: Hermann Struck Best Artist of the Year Prize, municipality of the city of Haifa (for a second time).
1999, 2001, 2002: A number of awards from local Rotary clubs in Haifa, Nazareth.
2008: Abed Abdi became the first Arab artist living in Israel to win the Israeli Minister of Science, Culture and Sport Award for art and graphic art.[1]
 The Jury stated in their decision that "Abed Abdi's Contribution in the making of collective visual culture among the Arab Israeli minority is unprecedented, and could be described as equivalent to Nahum Gutman's extent works."[2]
Replying to a question from an interviewer regarding the excitement generated by the event in the Israeli media, Abdi said, "If I really am the first Arab artist, it is neither a compliment to me nor to 60 years of the State of Israel".[3]
Israeli curator Tal Ben Zvi commented that "Indeed, it seems that thus Abdi faithfully summed up the attitude of both the state and the Israeli art establishment towards Palestinian art inside the Green Line. Abdi, the prolific and groundbreaking artist in so many respects in the sphere of Palestinian art, was forced to wait until he was sixty-six to gain this recognition."[]
In 2010, the mayor of the city of Haifa awarded him the title of notable citizen of

Haifa

.[6]
Notes:

 http://www.ynet.co.il/Ext/Comp/ArticleLayout/CdaArticlePrintPreview/1,2506,L-3636366,00.html

Anat Zohar, "It Doesn't Compliment Me or the State", at http://bidur.nana10.co.il/Article/?ArticleID=600807

 Tal Ben Zvi, Abed Abdi: Wa Ma Nasina (We Have Not Forgotten) in: Abed Abdi: 50 Years of Creativity, published in 2010, at p. 199.