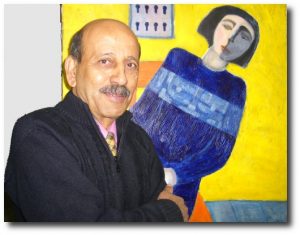 Abed Abdi's Art: Paintings
Abdi painted a number of color paintings during his studies in Germany, and has continued to do so, especially from the late seventies. In the paintings from the late 1990s, Abdi starts mixing color with other materials, such as glass, wood, metals, etc.
 His paintings include portraits, figures  and compositions. However, his main themes center around his childhood refugee experience, Haifa, the Gallile and other places , the Intifada, and the windows and doors series, those in the tiny alleys of the Arab neighborhood of Wadi Nisnas in Haifa, where the artists resides.
 Commenting on this later focus of his art, Samia A. Halaby wrote that "During his mature years, Abdi's work evolved to greater abstraction. Political comments are no longer explicit. At the Sakakini Cultural Center in Ramallah in 1997, Abdi exhibited a series of constructions utilizing windows to express a host of themes related to Palestine and the greater Arab world. That which inside, hidden, forbidden, and maybe imprisoned confronts the freedom of those outside curiously trying to look in."[1]
 Of special interest is his Ecce Homo series , and his series Dialogue with David Roberts, in which he contrasts the romantic 18th century works of the Scottish Roberts with the realities of the holy land as seen today.

 Notes:
 Samia A. Halaby, Liberation art of Palestine: Palestinian Painting and sculpture in the Second Half of the 20th Century, at p.38