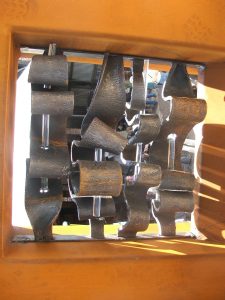 The Pillar was on display in the City of Liverpool during the Liverpool Biennial Festival of Contemporary Art.

Patrons of the Pillar: David and Rosemary Hufton.
I have participated in the International Blacksmith Workshop, which was organized by the British Arts Blacksmith Association (BABA), in England in June 2007.
The participants were designers from various countries, such as Chile, Germany, Russia, and other countries. It was indeed an interesting and unique experience, where warm and kind relations had developed between the participants.
I have studied sculpting and designing in Germany during the 1960s, and I have visited many places in the world. However, this is the first time I found myself connecting with warm relations in England. The final art product was a conjunction of about 16 designs, with the title Communication and Friendship.
In my design, I used five units of iron (width 20cm, thickness 8mm) in a space of 70*70, reflecting flare. I imagine the flare as a harmonic connection reflected in space, or as a child who connects two iron boxes with a thread to express the connection with others.
As if the iron and other metals, reflects the relations between individuals and societies. I used rounded pieces made of glass (radius 20mm) as a special element for flare reflection, also because glass transmits the stream.
As a Palestinian coming from Israel, I was delighted to have the opportunity to engage with others, and projects as this one should occur more often, as joint creativity helps in bridging cultural differences for the sake of mutual understanding, friendship and a contribution for beauty and optimum.
With much appreciation for your project, and best regards,
Abed Abdi,
(letter sent to BABA – the organizers in the UK)
Technical details of the works by Abed Abdi as included in the Pillar:
Harmony
Size: 65 x 65
Materials: simplified steel
Sizes of the 4 components of the work:
2 components 2×8 cm
2 components 2×10 cm
thickness of the work: 8 mm
other materials needed for the completion of the work:
colorful glass bars, thickness 10mm
required amount: 60 cm
artistic concept of the work: harmony and waves, meeting and continuity…impressions of the bridge in Ironbridge which was built 250 years ago.
Participants in the creation of the Pillar and their thoughts: 
Abed Abdi

"The iron reflects the relations between individuals and societies. I used rounded pieces of glass as a special element.Their on reflects,through the glass,the relations between individuals and societies; harmony and waves,meeting and continuity."
Team: Denise Axelsen, Roger Barnard, Maxime De Maria, Vincent Jack, Zacharya Leck, Adrian Legge, Mike Nash.
Adrian Wood (UK)
"I wanted to use circles to symbolise the friendship that binds the blacksmithing community, that has the ability to see beyond race, religion and colour. I wanted to see the arrows burst from the globe and spread out onto the pillar and show the energy and vigour of smiths around the world."
Team: Colm Bagnall, Mike Budd, Lee Knibbs, Pat Robinson, Matt Snape, Alexander Wedekind, Ned Willet.
Sergiy Polubotko (Ukraine)
"Two square plates represent creative and technical thinking. One is more frivolously forged while the other is plainer. The sphere in the centre is the universe, which joins them. The big sphere is a macro world – our world, and consists of smallermicroworlds…– our problems, desires, strivings, goals, attitudes."
Team: David Bird, John Boag, Stephane Chevalier,Colin Dray, Richard Grieve, Mike Hogg, Shona Johnson, Paul Mikula, Urs Teuschler, Matthias Wikli.

Rick Smith (USA)
"A handshake represents a coming together of minds, an acknowledgement of another person's presence; a greeting, an agreement, a commitment and unity.
People or nations facing each other, taking hold of and shaking each other's right hand."
Team: Adam Booth, Bill Cordaroy, Peter Crownshaw, Einat Halevy, David Hyde, Les Jordan, Oliver Leng.

Jim Horrobin (UK)
"The theme of Friendship led me to think about handshakes; the pineapple is a symbol of goodwill, friendship and hospitality. In my piece the pineapple has started to grow, to blossom. I designed the panel so that it could be created by people with different levels of experience in forging – so anyone could give me 'a hand' if they wished."
Team: Roy Abbott, Denise Axelsen, Iain Beck, Becca Clark, Clive Diggens, Joe Knight, Steve Rook.

Bethan Griffiths (UK)
"This circle of friends welcomes you by holding out an open hand (one each side of the aperture), the hand of friendship, for you to come and take hold and in doing so join in & share the joy that friendship offers. No two circles are the same. We often reaffirm our friendship with our hands… emblems of what holds circles of friends together."
Team: Russell Claridge, Georges Codina, Graham Grasse, Charles Kendal, Brian Russell, Ivan Russell, Axel Stewart.

Uri Hofi (Israel)
"The galaxies go around in a spiral movement. We find the spiral everywhere; in the fauna and flora, in living creatures and in nature all around us. In this piece we have forged and created a new form of life, as can happen every day with evolution. New 'animals' based on the spiral that will have to live in 'Peace & Friendship' within the frame of the Pillar – to demonstrate the only way to live in peace…"
Team: Jonathan Ball, Henry Charles, Matthew Hallet, Fritz Kramer, Will O'Brien, Alan Perry, Maarten Pieterviuypers.
Heiner Zimmermann (Germany)
"The symbolicmeaning of the square frame is the perfect static construction and limitation of space through borders. It also stands for North, South, East &West and the four seasons. The Moebius strip symbolises perfection; continuation of all beings in nature. No start – no end: eternity. The people represent 'Friendship' – relationships of all kinds in our limited lifetime…"
Team: Uri Ayalo, Russell Claridge, David Hesketh, Barnaby Jay, Phil Johnson, Cherrie Taylor, JonathanWhite.
Helen Roberts (UK)
"My design represents the coming together of people fromall over the world, forging friendships, learning and working towards a single goal."
Team: Peter Aberson, Henry Charles, Peter Clutterbuck, Lilith Green, Oliver Leng, Peter Parkinson, John Regoné, Renatus, Reto Zurcher.
Khier Aker (Palestine)
"The design has two heads, back to back joined through the neck with a bolt. The two heads represent everyone on earth;… together under the sun,… very much bolted together; yet howtightlywe are bolted is up to us.We have the power to either tighten or loosen the bolt, hence…olive leaves, representing peace, and the spanner at each
end giving us the power of choice to tighten or loosen the connection."
Team: Rob Garlick, Joe Knight, Carol Leonard, Stephen Murphy, Peat Oberon, Alan Perry, Rachel Rosen.

Martin Breidenbach (Germany)
"Six humans,moving, dancing and touching each other. Together they are building the shape of a ball, the shape of the world."
Team: Mark Christophe, Kate Dinneen, Henry Garcia, Etiene Gras, Hannelora Johansson, Daniel Nickels, Bromley O'Hare, Graham Robinson, Daniel Zwissler.
Lucy Quinnell (UK)
"It was some sort of miracle when in Hiroshima, not far from the centre of the explosion, a Gingko tree sprouted in the ensuing Spring. Today, the now magnificent tree is seen both as a memorial and a symbol for peace, sensibility and hope for a better and peaceful future. The figures are different colours, and represent a 'melting pot' group of people, each holding aloft a Gingko leaf. They stand under the 'same sky' and one sun, which is breaking through the clouds."
Team: Adam Boydell, Maxime De Maria, Jude Gres, Stephane Le Grand, Stephen Lunn, Stephen Murphy, George Quinnell-Harcombe.

Francisco Gazitua (Chile)
"All the parts of the sculpture are free to go or to stay, as there is no welding in my sculpture. They are together because every part needs the others to exist in harmony. All the pieces of steel are united only by an aesthetic necessity; the common search for beauty. The same happens in true friendship."
Team:Will Catcheside, Michael Haase, John Stringer, Jake Strieter, Aarin Vigardt, JeffWallin.

Igor Andruchin (Russia)
"My piece, called 'Druzhba' – friendship – symbolises the difference and similarity, the difficulties and dramatic beauty of human relations between different cultures, the necessity of co-existence."
Team: Brad Allen, Kevin Boys, Bill Cordaroy, Hugh Jones, Ian Lowe, Will Normandale, Tim Puddephat, John Snow.