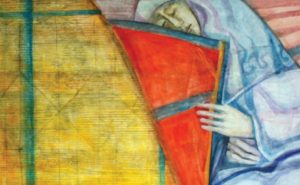 On the occasion of the Month of Arab Culture, a solo exhibition of Abed Abdi is being held at the Arab- Jewish Cultural Center (Beit Hagefen) in Haifa.

The exhibition is entitled "Homage to Lutfia, my sister in Yarmouk refugee camp".

Curator: Dr. Ayelet Zohar
Opening: Saturday May 18th 19:00. Closing Saturday August 31th

Art Gallery Beit HaGefen, 2 hagefen street Haifa
Opening Hours: Sunday -Thursday 10:00-15:30 Friday- Saturday 10:00-14:00
Abed Abdi (b. 1942, Haifa) is a Palestinian-Israeli artist educated as a graphic designer in Dresden in the 1960s. Upon returning to Haifa, Abdi was employed as the graphic designer for Al-Itihad publication up to 1982. Abdi's iconography marks a long contribution to the Palestinian struggle for recognition, the voicing of Palestinian identity, history and suffering, as a central theme of his creative work.

Paintings and Two-Dimensional Works
The current exhibition views Abdi's creative work from a personal point of view, inquiring into his sensitivity to material qualities, the diverse usage of fabrics, building materials, personal and historical accessories which are present throughout his work along his artistic career.
In the current exhibition we have chosen to concentrate on three important bodies of work: works that portray fabrics, folds and tent wings; personal and political portraits; and drawers that carry personal as well as cultural secrets.
more on the exhibition by the curator Dr. Ayelet Zohar: Folds and Tents, Portraits and Drawers