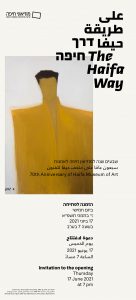 The Haifa Way: 70th Anniversary of Haifa Museum of Art
Opening:
Friday, 18.06.21, 10:00
Closing:
Saturday, 01.01.22
curator:
Haifa Museum of Art, one of the first museums established in Israel, is celebrating its 70th anniversary this year. A museum's material heritage is embodied in its collection, in the works it purchased and those donated to it. The works in the collection determine the museum's genetic code, and each new work entrusted for safekeeping joins its predecessors in shaping the museum's identity. This exhibition sets out to decipher the identity of Haifa Museum of Art by delving into its collections, asking where it is headed in the future.
The exhibition's main focus is the unique collection of artworks created in Israel from the 1950s to the present, concurrent with the museum's years of existence. The treasures brought up from storage are joined by works received on loan: works by Palestinian artists active in the country's north from the 1950s onward, and works by artists working in Haifa and its surroundings today. These loans indicate what we could have done better, and what we intend to do in the future.
Local art is reviewed in the exhibition from a Haifa perspective, recounting a story of artistic practice, with Haifa as its focal point. Throughout the show, emphasis is placed on several artists from Haifa and the north—formative figures in the history of art in the area, who are represented in the collection by significant bodies of work. The city's topography is also reflected in the exhibition, introducing two perspectives on the history of art in Israel: the first level's perspective is close-up—a glance at the individual, his encounter with the collective, and various social and political issues related to that encounter. This point of view responds to the museum's immediate surroundings—the Hadar HaCarmel, Wadi Nisnas, and Wadi Salib neighborhoods.
The upper floor overlooks its surroundings from a distance, as if observing from the heights of Mount Carmel, revealing natural, agricultural, and urban landscapes in varying degrees of abstraction. These two perspectives encapsulate a remarkable collection, which brings to the fore issues related to the place: the city of Haifa, with all its complexities and wonders.