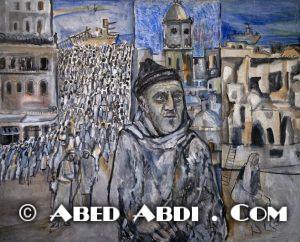 In the painting "Father on the Background of Displacement from Haifa April 22nd, 1948" Abed Abdi reconstructs through his and his family's personal experience the traumatic historical event of the Palestinian people: The Nakba. In 1948, Abdi who was born and lives in Haifa, was uprooted with his mother to Lebanon, where they spent four years before being reunited with the father of the family in Israel.
From the end of 1947 until early 1949, more than 750,000 Palestinians were uprooted and expelled from Israel, most of their homes and villages were destroyed, and they were not allowed to return.
Abdi's reconstruction is a return to the moment of the "big bang", which fomented the division within the Palestinian people between those who remained in Israel and those who became eternal refugees. And 50 years of occupation have only exacerbated this persistent disconnect and mutated it into a continuing, bleeding rupture.

Efrat Livny: 17 Years After.
From the catalog of the exhibition "Bad Taste – The Fiftieth Year of the Occupation", Gallery Minus 1, Tel Aviv. (at p.9)