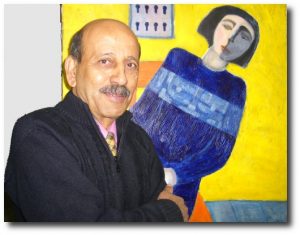 Abed Abdi's Other Activities

Abed Abdi is a member of the Haifa branch of the Israeli Association of Painters and Sculptors, and he has also been active in the Jewish-Arab Center of Beit Hagefen. This has enabled him to bring together Palestinian and Israeli artists, and organize joint exhibitions, bringing the prospects of peace closer.
From 2004 to 2009 Abdi Served as President of the Al Midan Theater in Haifa, and from 1996 to 2000 was a member in the Committee for Arts and Culture in Israel.
Abdi is the Founder of Ibdaa Association(1994) for the Advancement of Visual Arts among Israeli Arabs, and founder of Arabelle (2006), an association for deepening the dialogue between Arabs and Jews through Arts, and was one of the Founding Members of the Khalil el Sakakini Cultural Center in Ramalla (1998).
Since 2008, Abdi is the co-curator of the open air art exhibition bringing together Israeli, Palestinian and foreign artists, attached to the "Holiday of Holidays" multicultural event, taking place in Haifa each year through the whole month of December, celebrating the Christian, the Muslim and the Jewish holidays.