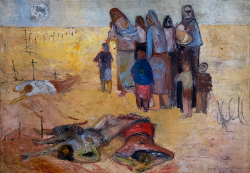 About 20 illustrations and art works by Abed Abdi, along with works by Pierre Antoniucci and William Chattaway, will be exhibited in Carla Bayle in France, in the framework of a group exhibition "Une exposition d'humanité", paying tribute to Volti, the famous French sculpturor.
The exhibition will open on the 9th of june 2011 at the Cité d'art, and remains open until the 19th.


Exhibition catalogue (French, Pdf)

Une exposition d'humanité
Du 9 au 19 juin 2011, Carla Bayle, cité des Arts, brille d'un éclat particulier.
L'exposition qui s'y tient présente un ensemble important d'oeuvres du sculpteur Volti, accompagnant celles qui sont déjà installées en permanence au centre de cette bastide splendide, si accueillante aux artistes et aux arts. Des invités l'entourent : Abed Abdi, Pierre Antoniucci et William Chattaway.
Chacun d'eux, avec ses techniques propres, s'est taillé une réputation forte. Déjà présentes dans les galeries et les musées, leurs oeuvres touchent les spectateurs, les visiteurs, chez lesquels – magie de la sculpture et de la peinture – elles laissent leur trace.

Chez Volti en particulier, j'aime le mélange entre sensualité et placidité. On l'a comparé à Maillol et à Laurens. Il ne leur est pas inférieur. La vigueur de ses compositions, leur modelé, leur matière chaude donnent envie de les contempler, de les caresser, de vivre durablement avec elles.

Un autre lien réunit ces artistes : leur humanité. Non seulement leurs oeuvres, mais leur vie et leur engagement même, attestent que la création n'est pas séparable du créateur. C'est ce qui rend si émouvante cette exposition, dans le village natal du philosophe Pierre Bayle : l'humanisme y est célébré à la fois par les oeuvres d'art rassemblées et par les parcours de vie. Cette exposition est un exceptionnel moment
d'humanité.

Laurent FABIUS
Comments (0)