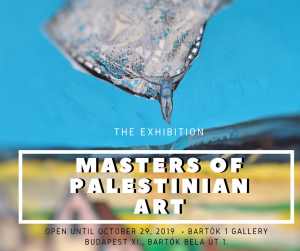 International Art Colony and Bartók 1 Gallery are proud to present:
15 Masters of Contemporary Palestinian Art
A selection of 40 artworks, all created in Hungary at the International Art Colony, during the special focus art residencies " 7 Masters of Palestinian Art" (season 1, 2 and 3). (i.e., between the years 2016 and today).
Participating Visual artists:
Abed Abdi
Ahmad Zoabi
Amjad Ghannam
Bashar Alhroub
Bashir Qonqar
Buthina Milhem
Fatima Abu Roomi
FOUAD AGBARIAH
Karim Abu Shakra Hamzh
MANAL MAHAMID
Mohamed Khalil
Randa Maddah
Samir Salameh
Shada Safadi
Tayseer Barakat
Opening Remarks:
Dr. Balázs Feledy Art Historian
Prof. Hasan Alsayed former head of Arab community in Hungary
🎯 open until 29th of October.
Daily: 10 a.m. – 8 p.m.
Free Admission