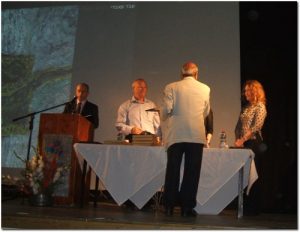 Abed Abdi has been awarded the Israeli ministry of culture and sport's prize in art and design for the year 2008.
Jury's Statement:
 "Abed Abdi is one of the outstanding, and most influential artists on the art and culture of the Arab society during more than forty years. His contribution to the creation of a visual culture by the Arab Israeli society is unprecedented, and its extent is comparable to the works of Nahum Gutman.
 His artistic illustrations and prints have been published intensively starting from the sixties, in the Al Ittihad newspaper, in the literary magazine Al Jadid and in numerous poetry and literary books by authors like Emil Habibi, Salman Natour, Samih Al Qasem, Mohammad Ali Taha, Anton Shammas and others.
 These images have actually singnificantly shaped the visual memory of the Arab society in relation to historical events they have been through, among these the images of the refugees, the events of Land Day, and the reality of life in Haifa. As an artist and an educator, he has been developing with great consistency and much talent the Arab culture in Israel for the past forty years."
It should be noted, that Abed Abdi is the first Palestinian artist to be awardeded this prize.