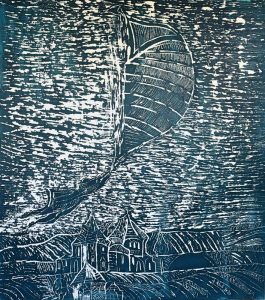 Abed Abdi interviewed by Selections art magazine
Taking up this issue's theme of 'The Diary of an Artist in Confinement Interesting Times', Selections invited artists to share their thoughts on work, art and life in general since the beginning of the year. We guided them with the following questions:
What image(s) illustrate(s) 2020 for you so far?
If you were to write a note, a reminder, a memory to yourself, or to the world, in a time capsule, and you were to open it 15 years from now, what would it say?
If you had to describe the year 2020 in brief, what would it sound like?
Some of you have dedicated this year so far to working continuously in your studio; some others have found themselves completely demotivated and have halted everything. What have you been doing? Please describe in detail and share with us the work you have been doing during this period.
The pandemic has changed our perception of time and our relationship to our homes. What is your experience?
How do you see the future of art?
Have you been reading?
Some chose to respond in a diary form or with visual storytelling; others provided their answers at varying length and in different ways. Each provides a unique insight into and reflection of the most extraordinary period of our lives to date.
What image(s) illustrate(s) 2020 for you so far?
It is the last painting that expresses my thoughts, the one I made here in the peaceful Hungarian village of Csókakő, the second home we lived in to help prevent the spread of the disease. I produced a graphic artwork here, which brought me back to many years ago when I studied at the Academy of Arts in Dresden, Germany. This work embodied a dreamy boy who hovers in an air balloon rising over the plains and hills of the village and aiming to fly far, far away. It is one of a collection of works that I previously completed in Haifa in Palestine, where I was born.
As someone said, the year 2020 was not fully consumed, therefore it should not be considered. It is among the years when the least was accomplished in various fields, including health and living. This situation has afflicted many people's interests, let alone the condition of the creative artist who makes a living from the sales market and the acquisition of his work by museums and institutions, as well as from various fields of creativity. The production available in this difficult period may be contrary to all expectations, but it is imperative to look towards a bright and promising tomorrow. Looking ahead, if I was right in formulating what is to come, I think that creativity, and every type of creativity, if it is sincere and expressive, will last into the future beyond fifteen years for sure.
Our world has handled the ravages of deadly epidemics, and the most outrageous were the ones that killed groups of people, in Europe in particular. We can now reduce its spread and through my creative work I am participating emotionally and vividly in stopping the "creep" of harm and appealing to the necessary awareness, as Picasso did in his immortal painting Guernica, to turn away harm or evil influences, for the sake of life and human happiness.
The circumstances involved in this current stage are less catastrophic than the woes that afflicted the peoples of the world, which are manifested in the countless works of poets, writers, and artists in recorded historical periods and as a warning for what is to come; also as an expression of emotion and a reaction to what was presented by the giants of visual and auditory creativity, like when the German painter Otto Dix expressed the ravages of World War I in Europe, and what was reflected by the Russian composer Modest Mussorgsky (1838-1881), who wrote the symphony "Pictures in an Exhibition" in honour of his friend Viktor Hartmann, who died at an early age.
We may not see the results of actions in the moment since it may take some time to integrate in content and form, as was the case in the responses of Pablo Picasso, the Mexican painter David Alfaro Siqueiros, the German painter Albrecht Dürer, the Russian writer Leo Tolstoy and other creative artists.
Frustration did not really hit me, especially during the days of Covid-19, when I achieved good outcomes and I recovered by working and facing all the disappointments. I mentioned the work that I did in the peaceful Hungarian village of Csókakő, which describes the same impression of the flying paper plane in the yard where I was guiding my son in controlling and balancing it; in fact, it is part of the work bearing the same title which was done in my coastal city Haifa, using the drilling technique on wood.
Regarding the uses of different materials during the Covid-19 period, it involved different techniques, including a review of materials that I used in different stages, like copper foil and old burlap bags, as well as a reappearance of oil and drawing on fabric, plus acrylic colours, ink and graphics, which were all reformulated since the beginning of the crisis in February and until now.
Abed Abdi is an artist and educator who has been consistently promoting Arab culture for over 40 years, and whose contribution to the visual culture of historical Palestine is unprecedented.
In 1964 he went to study in Dresden and on his return to Haifa in 1971 he was appointed chief graphic designer and illustrator of Al-Ittihad newspaper and the Al-Jadid literary journal, which at the time were the main platforms of Arab culture and society. it was then that Abdi created hundreds of illustrations and prints – images of refugees, exile and homeland – the majority of which illustrated the literary works of Emile Habib, Salman Natour, Samih al-Qasim, and others.
It is these images that shaped Arab visual memory of historical events like the Nekba, the refugee camps, destroyed villages, and the events of Land Day, hence the works' significant influence on the collective memory of the Palestinians in the occupied territories.


Read entire interview at source