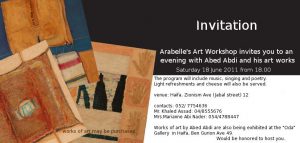 The program includes music, singing and poetry, light refreshments and cheese.
venue: HAifa, Zionism Ave (JAbal street) 12
contacts:
052/ 7754636
Mr. Khaled Assad: 04/8555676
Mrs.Marianne Abi Nader: 054/4788447
Works of art of Abed Abdi are also exhibited at the "Oda" Gallery in Haifa, Ben Gurion Ave 49.
works of art may be purchased.
Would be honored to host you..
Comments (0)