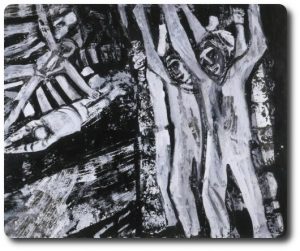 For the first time in the history of Herziliya museum, a group exhibition of 13 Palestinian artists citizens of Israel has been organized by curator Tal Ben Zvi, under the title "men in the sun", at the Herzliya Museum of contemporary art, nearby Tel Aviv.
The exhibition will be open from the 12th of June 2009 until the 13th of September 2009. The title of the exhibition was borrowed from one of the works of Abed Abdi, also exhibited at the museum, which was inspired by a novel of Palestinian novelist Ghassan Kanafani.
The participating artists are:
Abed Abdi, Osama Said, Asad Azi, Ibrahim Nubani, Asim Abu Shakra, Michael Halak, Durar Bacri, Rani Zahrawi

,

Raafat Hattab, Fahed Halabi, Ala Farhat, Scandar Copti, Rabia Buchari.
"The exhibition "Men in the Sun" explores contemporary Palestinian art, whose practitioners live and work in Israel. It borrows its title from Ghassan Kanafani's story by that name. Published in 1963, the novel unfolds the journey of three Palestinians of different generations who seek work in the Emirates in an attempt to deliver themselves and their families from their harsh conditions of life. Lacking the necessary transit permits, the three are forced to hide in an empty water tank carried by the truck transporting them, before reaching the border crossing between Iraq and Kuwait. At the border station the guards detain the truck driver in idle conversation, and the three Palestinians die in the desert heat, on the outskirts of an unknown city. The story concludes with the desperate cry of the truck driver: 'Why didn't you knock on the sides of the tank? Why didn't you bang the sides of the tank? Why? Why? Why?'"
Press Reviews of the exhibition ( in Hebrew:)