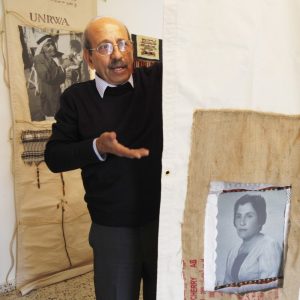 Palestinian artist pays tribute to his sister, who has lived in a Syrian refugee camp for more than 60 years, through his artwork. In his exhibition 'Homage to Lutfiyah', Palestinian artist Abed Abdi pays tribute to his sister who has lived in Syrian refugee camps for over 60 years. Abdi's sister Lutfiyah has been a refugee since 1948 – the year 700,000 Palestinian fled or were expelled from their homes in the war that led to the founding of Israel. That year, Lutfiyah and Abdi fled the harbour town of Haifa with their mother and siblings.
 Abdi's father stayed behind and Abdi and his mother were able to return three years later on the grounds of being reunited with their family. But Lutfiyah, already married, was sent with her husband to the newly opened Yarmouk refugee camp in Syria and has lived there ever since.
 Earlier this year, the shelling of the Yarmouk camp once again forced Lutfiyah, now around 80 years old, to leave her home behind. Lutfiyah's presence in the exhibition is symbolised by a black and white photograph at the centre of a piece of art made from hessian. a course woven cloth.
 "The exhibition is in sympathy with refugees, it is a humanitarian scream toward these refugees and one of them is my sister Lutfiyah, who was born in Haifa and has lived in the refugee camp," said Abdi.
Yeala Hazut, the curator at Beit Hagefen Arab Jewish cultural centre, believes the human stories behind the political issues can help bridge the divide between people. "That's the thing, to get to know the personal story you know. We are talking about the big narratives and so on but in the end, it's people and everyone, like Abed, have his own story. So that's, I think this is the route for us to get to know the personal stories," Hazut said.
The theme of the divide is ever present in Abdi's work. In once piece, lines cross through a painting representing a Palestinian house. There a carpet is split in two and the date 1948 appears in several pieces.
Hessian cloth reminds Abdi of the material used in the cloth sacks containing food handed over by the United Nations Relief and Works Agency (UNRWA) to the refugees. "I used hessian cloth for the exhibition as it reminds me of the sack that had UNRWA written on them. I remember the place, the smell of the cloth and I remember the situation when I was refugee at the refugee camps," he said.
Abdi, who studied art in Dresden, Germany, said he is influenced by German expressionists Otto Dix and Kaethe Kollwitz and Mexican artist David Alfaro Siqueiro. "We know that they live in a bad situation and that they move from one place to another in Damascus, searching for a safe life until there is a global solution for the Palestinian case," he said.
Abdi describes himself as a realist painter and said he hoped the exhibition would give some hope to his sister and other refugees
(REUTERS) HAIFA, ISRAEL (JULY 16, 2013)
---
Transcript of video clip about the exhibition created by Reuters crew
---
 ARTWORK 'MY SISTER, LUTFIYAH', SHOWING PHOTOGRAPH OF ARTIST ABED ABDI'S SISTER LUTFIYAH, TO WHOM THE EXHIBITION IS DEDICATED
DETAIL OF ARTWORK WITH SACK READING (English): '1948'
DETAIL OF ARTWORK 'MY SISTER, LUTFIYAH'
DETAIL OF ARTWORK 'FATHER ON THE BACKGROUND OF HAIFA UPROOTING' REPRESENTING ABDI HIDING BEHIND HIS MOTHER WITH A CROWD OF PALESTINIAN REFUGEES HEADING TO HAIFA HARBOUR AS THEY FLEE THE CITY UNDER THE WATCH OF A BRITISH SOLDIER
DETAIL OF ARTWORK 'FATHER ON THE BACKGROUND OF HAIFA UPROOTING'
DETAIL OF ARTWORK 'MY SISTER, LUTFIYAH', SHOWING FABRIC REPRESENTING HER BELONGINGS
(SOUNDBITE) (Arabic) ARTIST, ABED ABDI, SAYING: "The exhibition is in sympathy with refugees, it is a humanitarian scream toward these refugees and one of them is my sister Lutfiyah, who was born in Haifa and has lived in the refugee camp."
VARIOUS OF PAINTING 'FATIMA ABU SHURSH, ILLEGAL STAYER' REPRESENTING A WOMAN WHO IS NOT RECOGNIZED BY THE AUTHORITIES
VARIOUS OF ABDI AND CURATOR AT BEIT HAGEFEN ARAB JEWISH CULTURE CENTRE, YEALA HAZUT, TALKING AT EXHIBITION
(SOUNDBITE) (English) CURATOR AT BEIT HAGEFEN ARAB JEWISH CULTURE CENTRE, YEALA HAZUT, SAYING: "That's the thing, to get to know the personal story you know. We are talking about the big narratives and so on but in the end, it's people and everyone, like Abed, have his own story. So that's, I think this is the route for us to get to know the personal stories." \
WALL COVERED WITH ARTWORKS, SOME MADE WITH FOUND OBJECTS
ARTWORK 'PALESTINIAN HOUSE: FENCES CROSSING A HOUSE'
ARTWORK 'SPLIT CARPET, HOMAGE TO DAVID ROBERTS'
DETAIL OF ARTWORK SHOWING DATE '22.4.1948' MADE WITH HESSIAN CLOTH
DETAIL OF ARTWORK ON HESSIAN CLOTH
(SOUNDBITE) (Arabic) ARTIST, ABED ABDI, SAYING: "I used hessian cloth for the exhibition as it reminds me of the sack that had UNRWA written on them. I remember the place, the smell of the cloth and I remember the situation when I was refugee at the refugee camps."
DETAIL OF HESSIAN CLOTH VARIOUS OF ABDI PAINTING PAINTS ON PALETTE
(SOUNDBITE) (Arabic) ARTIST, ABED ABDI, SAYING: "We know that they live in a bad situation and that they move from one place to another in Damascus, searching for a safe life until there is a global solution for the Palestinian case."
PAINTBRUSHES IN POT
VARIOUS OF ABDI LOOKING THROUGH PHOTO ALBUM PHOTOGRAPH SHOWING ABDI AND LUTFIYAH AT A FAMILY REUNION IN AMMAN IN JORDAN IN 2010
VARIOUS OF ARTWORK WITH PHOTOGRAPH OF ABDI AND HIS PARENTS (WITH LUTFIYAH) ARTWORK ENTITLED 'THE CLOCK STOPPED ON APRIL 22, 1948'
Clip 1 of 1 (Copyright: REUTERS)
HAIFA, ISRAEL (JULY 16, 2013) (REUTERS) ARTWORK 'MY SISTER, LUTFIYAH', SHOWING PHOTOGRAPH OF ARTIST ABED ABDI'S SISTER LUTFIYAH, TO WHOM THE EXHIBITION IS DEDICATED DETAIL OF ARTWORK WITH SACK READING (English): '1948' DETAIL OF ARTWORK 'MY SISTER, LUTFIYAH' DETAIL OF ARTWORK 'FATHER ON THE BACKGROUND OF HAIFA UPROOTING' REPRESENTING ABDI HIDING BEHIND HIS MOTHER WITH A CROWD OF PALESTINIAN REFUGEES HEADING TO HAIFA HARBOUR AS THEY FLEE THE CITY UNDER THE WATCH OF A BRITISH SOLDIER DETAIL OF ARTWORK 'FATHER ON THE BACKGROUND OF HAIFA UPROOTING' DETAIL OF ARTWORK 'MY SISTER, LUTFIYAH', SHOWING FABRIC REPRESENTING HER BELONGINGS (SOUNDBITE) (Arabic) ARTIST, ABED ABDI, SAYING: "The exhibition is in sympathy with refugees, it is a humanitarian scream toward these refugees and one of them is my sister Lutfiyah, who was born in Haifa and has lived in the refugee camp." VARIOUS OF PAINTING 'FATIMA ABU SHURSH, ILLEGAL STAYER' REPRESENTING A WOMAN WHO IS NOT RECOGNIZED BY THE AUTHORITIES VARIOUS OF ABDI AND CURATOR AT BEIT HAGEFEN ARAB JEWISH CULTURE CENTRE, YEALA HAZUT, TALKING AT EXHIBITION (SOUNDBITE) (English) CURATOR AT BEIT HAGEFEN ARAB JEWISH CULTURE CENTRE, YEALA HAZUT, SAYING: "That's the thing, to get to know the personal story you know. We are talking about the big narratives and so on but in the end, it's people and everyone, like Abed, have his own story. So that's, I think this is the route for us to get to know the personal stories." WALL COVERED WITH ARTWORKS, SOME MADE WITH FOUND OBJECTS ARTWORK 'PALESTINIAN HOUSE: FENCES CROSSING A HOUSE' ARTWORK 'SPLIT CARPET, HOMAGE TO DAVID ROBERTS' DETAIL OF ARTWORK SHOWING DATE '22.4.1948' MADE WITH HESSIAN CLOTH DETAIL OF ARTWORK ON HESSIAN CLOTH (SOUNDBITE) (Arabic) ARTIST, ABED ABDI, SAYING: "I used hessian cloth for the exhibition as it reminds me of the sack that had UNRWA written on them. I remember the place, the smell of the cloth and I remember the situation when I was refugee at the refugee camps." DETAIL OF HESSIAN CLOTH VARIOUS OF ABDI PAINTING PAINTS ON PALETTE (SOUNDBITE) (Arabic) ARTIST, ABED ABDI, SAYING: "We know that they live in a bad situation and that they move from one place to another in Damascus, searching for a safe life until there is a global solution for the Palestinian case." PAINTBRUSHES IN POT VARIOUS OF ABDI LOOKING THROUGH PHOTO ALBUM PHOTOGRAPH SHOWING ABDI AND LUTFIYAH AT A FAMILY REUNION IN AMMAN IN JORDAN IN 2010 VARIOUS OF ARTWORK WITH PHOTOGRAPH OF ABDI AND HIS PARENTS (WITH LUTFIYAH) ARTWORK ENTITLED 'THE CLOCK STOPPED ON APRIL 22, 1948'
– See more at: http://www.itnsource.com/en/shotlist/RTV/2013/07/23/RTV230713108/?s=abed%20abdi#sthash.r6NVIHSK.dpuf
Clip 1 of 1 (Copyright: REUTERS)
HAIFA, ISRAEL (JULY 16, 2013) (REUTERS) ARTWORK 'MY SISTER, LUTFIYAH', SHOWING PHOTOGRAPH OF ARTIST ABED ABDI'S SISTER LUTFIYAH, TO WHOM THE EXHIBITION IS DEDICATED DETAIL OF ARTWORK WITH SACK READING (English): '1948' DETAIL OF ARTWORK 'MY SISTER, LUTFIYAH' DETAIL OF ARTWORK 'FATHER ON THE BACKGROUND OF HAIFA UPROOTING' REPRESENTING ABDI HIDING BEHIND HIS MOTHER WITH A CROWD OF PALESTINIAN REFUGEES HEADING TO HAIFA HARBOUR AS THEY FLEE THE CITY UNDER THE WATCH OF A BRITISH SOLDIER DETAIL OF ARTWORK 'FATHER ON THE BACKGROUND OF HAIFA UPROOTING' DETAIL OF ARTWORK 'MY SISTER, LUTFIYAH', SHOWING FABRIC REPRESENTING HER BELONGINGS (SOUNDBITE) (Arabic) ARTIST, ABED ABDI, SAYING: "The exhibition is in sympathy with refugees, it is a humanitarian scream toward these refugees and one of them is my sister Lutfiyah, who was born in Haifa and has lived in the refugee camp." VARIOUS OF PAINTING 'FATIMA ABU SHURSH, ILLEGAL STAYER' REPRESENTING A WOMAN WHO IS NOT RECOGNIZED BY THE AUTHORITIES VARIOUS OF ABDI AND CURATOR AT BEIT HAGEFEN ARAB JEWISH CULTURE CENTRE, YEALA HAZUT, TALKING AT EXHIBITION (SOUNDBITE) (English) CURATOR AT BEIT HAGEFEN ARAB JEWISH CULTURE CENTRE, YEALA HAZUT, SAYING: "That's the thing, to get to know the personal story you know. We are talking about the big narratives and so on but in the end, it's people and everyone, like Abed, have his own story. So that's, I think this is the route for us to get to know the personal stories." WALL COVERED WITH ARTWORKS, SOME MADE WITH FOUND OBJECTS ARTWORK 'PALESTINIAN HOUSE: FENCES CROSSING A HOUSE' ARTWORK 'SPLIT CARPET, HOMAGE TO DAVID ROBERTS' DETAIL OF ARTWORK SHOWING DATE '22.4.1948' MADE WITH HESSIAN CLOTH DETAIL OF ARTWORK ON HESSIAN CLOTH (SOUNDBITE) (Arabic) ARTIST, ABED ABDI, SAYING: "I used hessian cloth for the exhibition as it reminds me of the sack that had UNRWA written on them. I remember the place, the smell of the cloth and I remember the situation when I was refugee at the refugee camps." DETAIL OF HESSIAN CLOTH VARIOUS OF ABDI PAINTING PAINTS ON PALETTE (SOUNDBITE) (Arabic) ARTIST, ABED ABDI, SAYING: "We know that they live in a bad situation and that they move from one place to another in Damascus, searching for a safe life until there is a global solution for the Palestinian case." PAINTBRUSHES IN POT VARIOUS OF ABDI LOOKING THROUGH PHOTO ALBUM PHOTOGRAPH SHOWING ABDI AND LUTFIYAH AT A FAMILY REUNION IN AMMAN IN JORDAN IN 2010 VARIOUS OF ARTWORK WITH PHOTOGRAPH OF ABDI AND HIS PARENTS (WITH LUTFIYAH) ARTWORK ENTITLED 'THE CLOCK STOPPED ON APRIL 22, 1948'
– See more at: http://www.itnsource.com/en/shotlist/RTV/2013/07/23/RTV230713108/?s=abed%20abdi#sthash.r6NVIHSK.dpuf