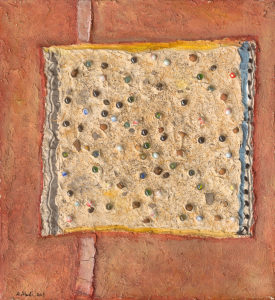 Zawyeh Gallery is pleased to announce the launch of the third edition of Ramallah Art Fair on Monday, 12 December 2022, after the tremendous success of the previous two editions. In this edition, 40 Palestinian, Arab, and international artists will participate with more than 200 artworks that combine different artistic styles and are specially produced for Ramallah Art Fair.
Among others, Abed Abdi is also participating in this Art Fair with 8 artworks: 4 original new artworks and 4 new limited edition prints on canvas.

The launch will take place physically at the gallery's premises in Ramallah and online through their virtual space, which is designed to provide visitors with a unique experience. Thus they intend to cross geographical boundaries and give the opportunity to the public in Palestine and abroad to view the artworks alike until 12 February 2023.
This edition of Ramallah Art Fair will include more diverse works utilizing multiple techniques in different forms, including paintings, photography, and sculptures. The themes of the artworks focus mainly on Palestine.