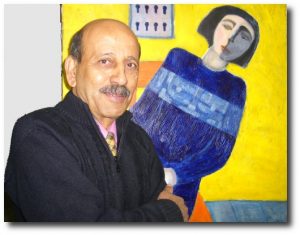 Abed Abdi was born into a long standing Haifa family, his mother's uncle, Abed el Rahman el Haj, was mayor of the city of Haifa in the years 1920–1927. In April 1948, Abed Abdi, his mother Khaiyrieh, his brother Deeb and sisters Lutfiye, Suad and Zahra were uprooted from their home, while his father remained in Haifa. From Haifa the mother and her children traveled to Acre from where, two weeks later, they sailed on a decrepit boat to Lebanon. In Lebanon they were first housed in the transit camp in Beirut port, and later moved to the Mieh Mieh refugee camp near Sidon, from where they continued to Damascus. After three years of wandering between Palestinian refugee camps, the mother and her children were allowed back into Israel as part of the family reunification program. His eldest sister Lutfiye still (2011) resides in the Yarmouk refugee camp in Damascus, Syria.[1]
 During his high school days he learned painting and sculpting at the workshops of Israeli art teachers Yaskil Avraham, Meirowitch Zvi, and sculptor Kafri Mordecai. In 1962 Abdi was accepted for membership in the Haifa branch of the Israeli Association of Painters and Sculptors, becoming its first Arab member, and held his first exhibition in Tel Aviv.[2]
 He then pursued academic studies at the Fine Arts Academy in Dresden (Germany). His professors were Lea Grundig,[3]G. Bondzin and G. Kettner. His masterwork at the Academy received the 2nd prize, which allowed Abdi to spend another year at the Academy and specialize in murals and environmental sculpture.[4]
 In 1970 he received his M.A diploma, and was then selected by his academic supervisor Prof. Gerhard Bondzin, along with a group of other graduating students at the Academy, to participate in the erection of a huge mural at the Cultural Palace (Kulturpalast), built in 1968 in the center of Dresden, a mural which still remains a cultural landmark of this part of unified Germany .
 
Notes: 

Tal Ben Zvi, The Trailblazer:Abed Abdi Biographical Milestones, in:Abed Abdi: 50 Years of Creativity, published in 2010, at p. 222.
Tal Ben Zvi, The Trailblazer: Abed Abdi Biographical Milestones, in:Abed Abdi: 50 Years of Creativity, published in 2010, at p. 222.
see Lea Grunding on Wikipedia in German. See also a portrait of the student Abed Abdi, made by his professor Lea Grundig (1967) at: Deutsche Fotothek
Amir Abdi,The Wondering Museum in the Works of Abed Abdi, in: Abed Abdi: 50 Years of Creativity, published in 2010, at p. 194