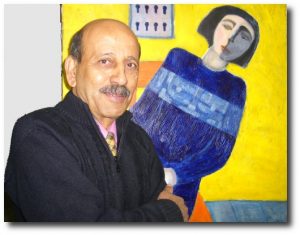 Abed Abdi's Art: Murals and Environmental Sculptures
Abed Abdi he has painted a number of murals and erected a number of environmental sculptures in various locations: In Haifa, Jaffa, in three schools at Ibellin , at a school in Zarazir village , and in Nazareth.
In 1984, Abdi created the mosaic at the House of Grace- An Orthodox church in Haifa, and in 1995 advised in the reconstruction of Al Jazzar mosque in Acre.
In 1998 Abdi erected an environmental sculpture Homage to Amman at the piazza of the Jordan National Gallery of Fine Art in the city of Amman.

In 2007, Abdi participated in the erection of the Pillar for Friendship and Peace, created at the historical city of Ironbridge in the UK in 2007 on the initiative of BABA – the British Artist Blacksmiths Association.
The pillar includes works by a number of master blacksmiths from around the world. On the occasion of this Abdi stated that
"The iron reflects the relations between individuals and societies. I used rounded pieces of glass as a special element. The iron reflects,through the glass,the relations between individuals and societies; harmony and waves,meeting and continuity." (1)