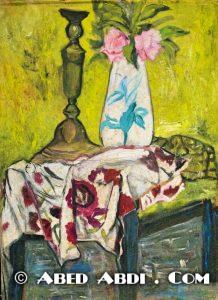 Abed Abdi's first solo exhibition was held at "Ahva" (solidarity) Culture Club, Tel-Aviv, Brenner street 21.
Curator : G. Adam
opening remarks: G. Adam, Adeeb Kass.
A special conference was held on the last day of the exhibition (Saturday the 2nd of February 1962), on the "problems of Arab Culture in Israel", with the participation of: Eisam Al Abbasi, Hanna Abu Hanna, Issa Loubani and Adeeb Kass.